Plug & Play Circline LED Bulbs New York
Plug & play Circline LED bulbs replace Circline FC8T9, FC9T9 and FC12T9 fluorescent bulbs without rewiring or modification. The plug & play Circline LED bulbs are compatible with traditional magnetic ballasts and modern electronic ballasts. It makes the LED bulbs as a direct remove and replace without worrying the type of ballasts in the light fixtures. It is as simple as changing a light bulb and starts energy savings. Plug & play LED technology is designed and developed by NYLEDLuminaries, Brooklyn NY.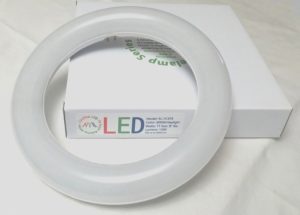 Brighten up your home and living space with Plug & Play Circline LED lights from circlineled.com. We have a colossal selection of premium quality and scintillating Online Circline LED New York which can easily replace fluorescent bulbs without any modifications. At circlineled.com, we just don't offer the replacement bulbs, we offer the products that will make your face light up. Our range of Circline LED replacement New York is much bigger and brighter than any other suppliers of circline LED.
We constantly strive to excel at fulfilling the lighting needs of the home, businesses, educational hubs, hospitals, government institutions etc. Our plug and play Circline bulbs are easy to install and saves a huge amount of energy. We understand that buying LED bulbs online is no fun, therefore circlineled.com makes the entire process of buying LED quick and hassle free. When it comes to finding the right light under budget, no one can match our selection. Buy T9 Circline Led Light Bulb today from our online store and fill your place completely with beautiful light.